On 12 to 14 June a workshop was given in Delft, the Netherlands, for a large group of students as part of the Summer School of the European Wind Energy Masters (EWEM).
As an eye-catcher for this Summer School a small wind turbine had been temporarily installed at the main campus of the University in Delft.
In this hands-on workshop the participants learned about the different aspects of building a Hugh Piggott type wind turbine. Finally a wind turbine with a 3 m. rotor diameter was installed on a 14 m. high wooden tower.
 The workshop started with a short explanation of the turbine design and their application in rural areas in developing countries. Afterwards the participants worked outside in groups on the different components:
Marko tells about Hugh Piggott                       Carving of the wooden blades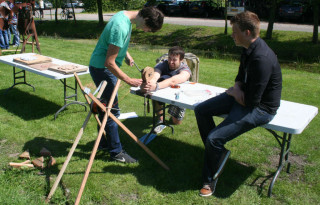 Winding the coils for the generator            Bolting wooded beams of tower
 Many people worked on the wooden tower
The wind turbine was painted and assembled                   and text put on the tail
The wooden tower had to be carried to its final location, it was a real group effort to lift the large structure.
Tower was erected with  a cable puller 
After the tower was erected and fixated to the foundation the turbine was inaugurated and the all participants looked back proudly to an unique learning experience with a great result.