The master class of September 2010 in Dar Es Salaam resulted in three turbines in total. The 1.8 meter model (peak power 350W) was still lying in the store waiting to be installed. Last week, there was finally an opportunity to install it. Tatedo has chosen for powering a public service house in Kwemasimba, a small mountain village close to the town of Korogwe.
Because the village is situated on a slope, it was not easy to find a suitable site. Moreover, we needed to install the turbine close to the service house to minimize losses in the cable. Then after choosing the only available option, there was an issue with the neighbour. He claimed to have building plans on his own piece of land where guy wires will be attached. It is not possible to put these guy wires even closer to the turbine tower itself, because they are already at a minimal distance.
The chairman and some elderly people of the village arranged a meeting with the neighbour to discuss the situation. The neighbour was happy with electricity coming to his village, he only liked some financial compensation for the fact that he cannot build the house that he planned to build. Logical. In the end an arrangement was settled. This whole process took about 2 days, which is normal for Tanzanian culture, but somewhat frustrating if you arrive with a European planning.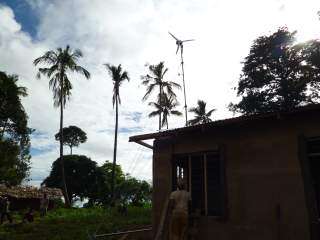 Anyway, we managed to install the turbine at this awkward site. There was not so much wind that week. Wind in mountain areas can be very locally determined. Let's hope the low wind is due to the rainy season, and not common for this very specific village. The villagers themselves claim that the wind is blowing normally much much more, than in the past week…